Intro
I use JIRA a lot at my job. I use a bunch of the Atlassian products every day, but JIRA is my favorite. At work, we track all of our internal issues in JIRA, plan and track all of our developement in JIRA, and conduct all of our client-facing support in JIRA and JIRA Service Desk.
About a year and a half ago, I found this series of blog posts on the Atlassian Blogs network about using JIRA as an asset management system. We were currently looking around for a way to inventory all of our assets in anticipation of a move to a new office building. The bulk of the enterprise-level asset management suites start well north of $10,000 and would take a serious time investment to get started.
We already had JIRA in our environment, why not give it a shot?
Well, it worked great. Our system as it stands now has over 800 assets in it spread over 3 countries and 2 continents. It has been a really great implementation for us and has proven to be uniquely flexible in a way that most other systems we looked into were not.
But how flexible could it be, really?
The Beer Problem
I have a problem. I like to collect things. The collections tend to get a little out of control. It started when I was younger with baseball cards and Legos. Then it was sneakers. I worked at Footlocker just for the discount so I could feed my habit. Most recently, my collecting efforts have been focused on craft beer.
I buy beer faster than I can drink it. I lose track of what I have. I have 4 refrigerators or freezers in my house. They all have beer in them. It got out of control.
The Solution
At some point it dawned on me that the solution to my beer problem was looking at me in the face each and every day. I could use JIRA for my own personal beer inventory system. It works for laptops and monitors, why not cans and bombers too?
So I set off and signed up for my own JIRA Cloud account and got going. We use hosted JIRA at work, so at the very least this would give me some insight and experience into the differences between hosted and OnDemand JIRA solutions. This is like continuing education.
Right?
The Setup
Getting this setup did not take too long at all since I already had gone through this twice now having setup the asset management system at work and once for a client as well. So I created the custom fields specific to craft beer, added them to the appropriate screens, and started adding inventory: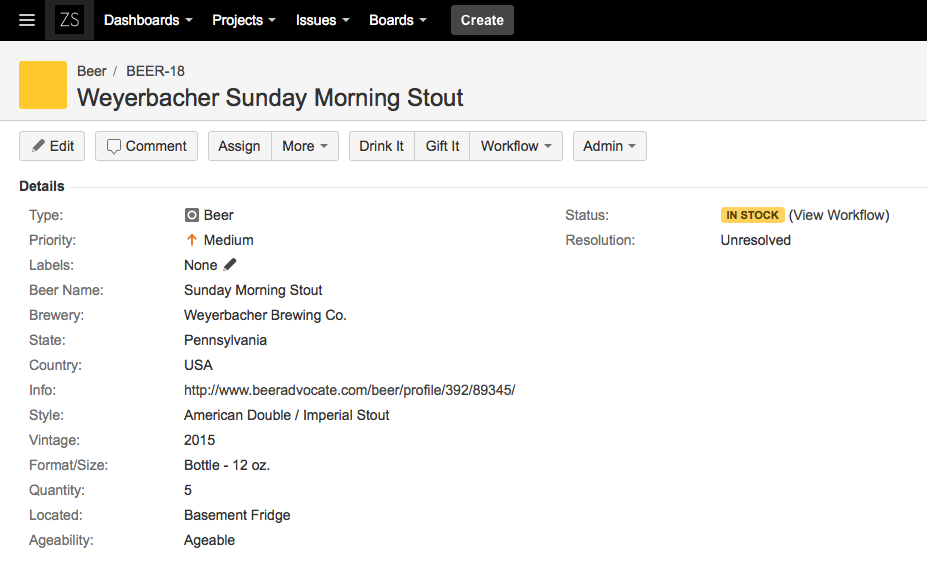 I plan on going into more depth about the custom fields and field configurations in a later blog post.
Next I needed a workflow since the standard "ToDo, In Progress, Done" wasnt going to cut it. I do some beer trading occassionally, and I have given some beer away too, so I needed a workflow that accomodated those actions. Oh yeah, and drinking it to. I do that.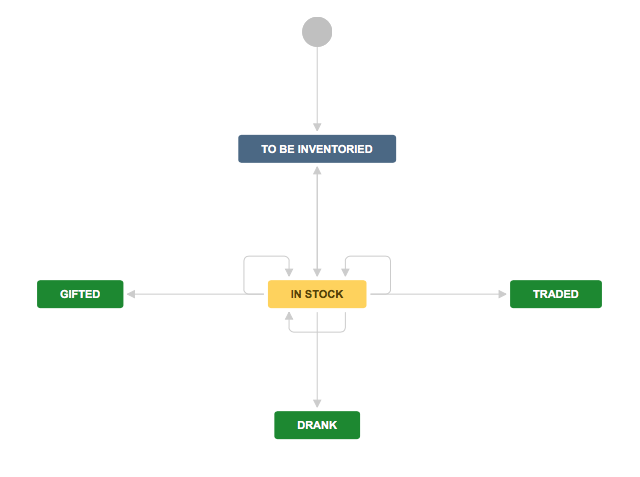 The "To Be Inventoried" status lets me add beers quickly, and the fill in the details later before officially putting them "In Stock."
Each workflow transition has a screen that allows me to update how many beers I have left after drinking (each unique beer is assinged to an issue, and then multiple beers are denoted in the quantity custom field on the beer issue) and if they moved to a different fridge.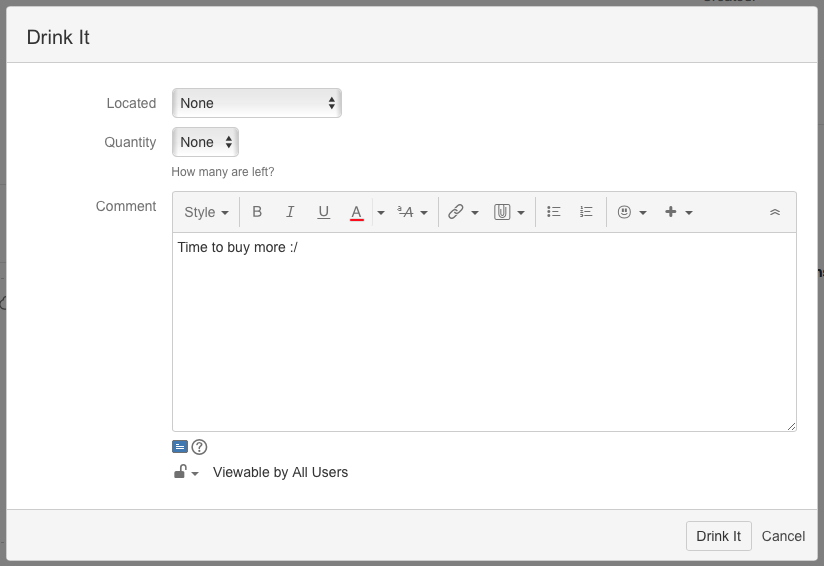 Last, I setup a dashboard so that I could keep track of everything:


The dashboard lets me see what I have in stock, what I have designated as something I need to drink now (can't let those IPAs go too long) and what beers I still need to add details for.
Going Forward
So far, this has worked great for me. It has not stopped me from collecting, but I have a much better idea of what I have now (and unfortunately what I don't.) I'm already working on another project for wine and spirits (where did all this bourbon come from?)
I plan on working on some sort of display for the main beer fridge, maybe using the Wallboard Plugin or maybe just the dashboard on a fridge-mounted iPad. I have also looked into using Service Desk to make adding beers easier right from the fridge.
After all that, I think it's time for a beer. Going to have to check my "Drink Now!" filter.